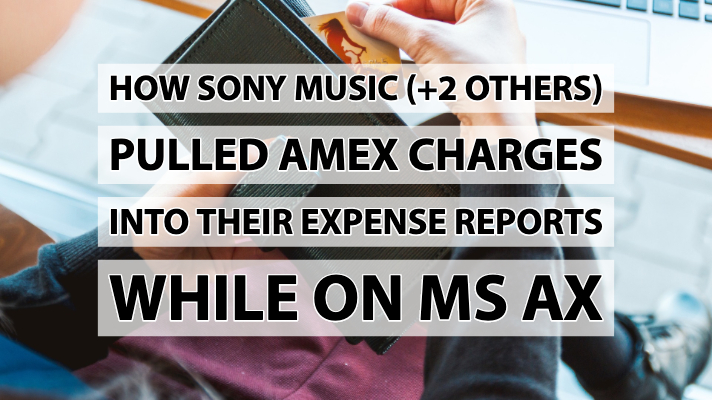 For many companies, it would be ideal to bring credit card charges into their expense reports. The idea is that employees should be able to use their company or corporate credit cards to easily create expense reports. However, this can be a challenge for many expense vendors because of the complexity.
For instance, Sony Music Entertainment is one company that successfully brought credit card transactions into their employee expense reports. As many know, Sony Music is a world-renowned global recorded music company with a roster of both local artists and international superstars. The company boasts a vast catalog that comprises some of the most important recordings in history. Sony Music Entertainment's U.S. and Canadian subsidiaries are currently on a global SAP instance. The Latin American subsidiary is on Dynamics AX.
Using a solution that brings in their employees' credit card charges from American Express into their expense reports was a major requirement for their expense reporting process. That's where they found the need for an expense reporting tool that would integrate with AX and would bring in their credit card charges.
Credit Card Expense Reports: What To Consider
The process for bringing credit card charges can be complex. So, there are several considerations to make when adding credit card transactions, such as those from American Express, MasterCard, VISA, or Discover. For instance, those considerations might be:
Integrating with a specific banking solution
Working with an intricate existing architecture
Accommodating complex accounting logic, approval rules, and audit workflow requirements
And more!
---
Related Article: Automatically Load Receipts Into Your Expense Reports
---
If you'd like to know more about how Sony Music, CALIBRE, and Packaging Corporation of America all overcame challenges related to implementing credit card expense reports, be sure to check out this case study.
By DATABASICS
DATABASICS is third-party with not only timesheets, but also expense reporting software that integrates with MS Dynamics, NetSuite, & Sage Intacct.
Read more about DATABASICS and MS Dynamics on our site at https://blog.data-basics.com/topic/ms-dynamics or https://www.data-basics.com/company/partnerships/microsoft-dynamics-timesheet-expense-reporting/
So, be sure to check out more about DATABASICS here on the ERP Cloud Blog: https://erpsoftwareblog.com/cloud/author/data1018/