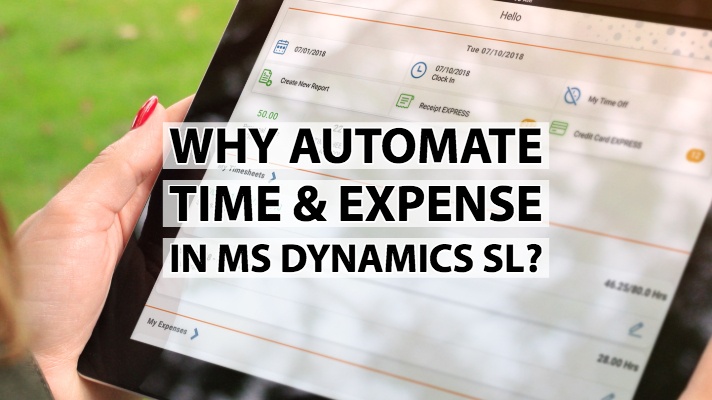 MS Dynamics SL provides essential software for managing your business. However, since no single software is perfect on its own, it's a good idea to look for third-party add-ons that can solve your most pressing business challenges through automation. 
Why should you automate your timesheets and expense reporting?
Ask anyone in your company if they like doing their timesheets and expense reports. You'll get a resounding "no."
That's because these processes tend to take up a lot of time that your employees and admins can otherwise spend on their actual work. Employees dislike having to keep up with yet another timesheet or expense report deadline. Managers don't like having to double check and sign off on those submissions and they like chasing down missing timesheets and expense reports even less. It's a challenging, but necessary part of doing business.
That's why you should take advantage of all the possibilities when it comes to streamlining your processes. Third-party add-ons for MS Dynamics SL can come into play here.
Here's a list of features to look for from these third-party providers:
Compliance
Managers shouldn't have to perform double and triple checks manually to make sure that submitted timesheets and expense reports comply with your company rules or even with government rules. The system should provide automatic timekeeping and expense tracking approvals or denials. A truly automated system can even provide warnings as to why something is pass-able, but not quite right for both timesheets and expense reports. That way, approvers aren't wasting time on frequent, small errors and employees can learn from their mistake, fix it, and re-submit it.
Receipt management
Using expense report optical character recognition (OCR), employees can submit instant expense reports with the snap of a picture on their phone. They just take a picture of their receipt. Then, they let the system automatically fill in the appropriate fields, verify, and hit submit. Managing and submitting receipts has never been easier. Plus, approvers no longer have to track expense report receipts by hand because they're digitally stored alongside the expense report.
Another benefit of automated expense reporting is credit card feed imports. You can connect your company's credit cards or P-Cards to your account, which means that each person with a company card can automatically add their card transactions to their expense report. This also automatically fills in details like vendor name, amount, date, and other relevant details. The result is an expense report that almost completes itself.
Mobile apps
Employees don't have to be tied down to their office to submit their expense reports or timesheets. Giving them access to their data no matter where they are empowers employees to get their work done on the go. The expense report and timesheet app should offer the same functionality as the desktop version and should keep employees and approvers more connected with notifications and alerts about their submissions or their approval queue.
No data manipulation
There are a few offerings that will connect with MS Dynamics SL through a connector that bridges their software and yours. Those sometimes require you to manipulate data to fit from one system to another. Instead, you should look for a direct MS Dynamics integration that pulls the data for you, without exporting or importing (and potentially altering the data).
Project tracking
Project tracking might seem simple, but when you've got several projects at once and you're trying to establish ROI from those projects, it becomes complicated. Tracking time and expenses down to the project or activity level can provide valuable insights about where you're spending and where you could be saving. Automating this process is as simple as inputting the new project, collecting data about that project, and running reports at the end of the project, quarter, or year to determine its value.
Geolocation & geo-fencing
Timesheet geo-fencing features offer some major benefits if you're working in the retail, field services, staffing, or home healthcare industries (among many others). You can set a particular perimeter around a worksite using GPS technology to ensure that employees can only clock in or out within those boundaries. Geolocation is also helpful for determining where employees are when they submit their expense reports and timesheets.
If you're looking for reasons to make the change to an automated expense reporting and time tracking solution, look no farther than these essential features of automated software. Learn more about how you benefit from automated time and expense software that integrates directly with MS Dynamics SL.
When you are ready to discuss how timesheet and expense reporting automation can benefit your specific business, reach out to DATABASICS at 703-436-8558 or sales@data-basics.com.
By Amanda Canupp Mendoza at DATABASICS, a timesheet and expense reporting solution with MS Dynamics SL integration, www.data-basics.com.
Read more about DATABASICS and MS Dynamics on our blog at https://blog.data-basics.com/topic/ms-dynamics or https://www.data-basics.com/company/partnerships/microsoft-dynamics-timesheet-expense-reporting/