"Where did the time go?" you might find yourself wondering at the end of the workday.
Time flying by while you're at work isn't such a bad problem to have. After all, time flies when you're having fun.
However, ensuring that you and your team stay productive can be a problem. The tracking tools in Sage Intacct can be helpful for getting started. The dashboard provides some quick buttons for tracking time.
On the other hand, if your company needs a bit more timesheets for Sage Intacct functionality, a good idea is to consider third-party timesheets for Sage Intacct add-ons. Here's what to look for when considering third-party timesheet, timecard, and payroll add-ons for Sage Intacct:
 Sage Intacct Timesheet Software Requirements
1) Integration Capabilities
Timesheets for Sage Intacct integrations will be essential for any software add-on. When it comes to timesheet software, third-party add-ons need to integrate directly. No one should be typing data manually from one system to another. The goal is to cut down the burden involved in tracking accurate time, so automated integrations are crucial.
Think outside the box here too.
The latest in timesheets for Sage Intacct software integrates with not only Sage Intacct, but also your HR, payroll, travel booking, and even your credit card providers (for expense reporting).
2) Full Features & Functionality
If you're an accountant working with software that just doesn't do everything, you'll love these words: "flexible approval structures, automated T&E policy management, and flexible reporting periods."
A top-notch third-party solution will come with these capabilities out of the box. Beyond this functionality, look for a vendor who can tailor your solution to help you meet those one-off or complex challenges.
3) Mobile App & Push Notifications
Even if your workforce isn't always on the go, they probably do travel and work from home. A mobile timesheet app helps keep your workforce in touch with their timesheets. They can even get push notifications on their phone to remind them to log their time or to let them know when a timesheet has been approved.
4) Reporting, Your Way
Your organization is unique. Your reporting should be too. Being able to see real-time dashboards and reports helps you stay in the know about data that's valuable to you.
Additionally, reports can also be emailed to you on a weekly or monthly basis.
Do you want to see who hasn't submitted their time card? There's a report for that. Are you trying to calculate overtime? There's a report for that, too. Data is power. The right third-party time card tool can unlock that data for you.
5) Bring Your Best To Your Work
Understanding where your time goes helps you make the right adjustments. Maximizing your time lets you bring out your best work-self and shows you how to streamline your team's efforts, too!
The result is more recognition of your efforts (and maybe even the promotion or approval of a special project you've been eyeing). All this should go towards helping you bring your best to your work.
Which timesheets for Sage Intacct tool is right for you?
If you're excited about these opportunities, it's now a matter of making the right match.
DATABASICS is currently looking for partners who are looking for the right match. So, if you're tired of old processes that don't work and you're ready to finally make a difference to your bottom line, reach out.
Get more info from our one-page PDF, "Consolidate Into A Single-System Experience With Sage Intacct Integrations."
Or, learn more here: "Why Sage Intacct Users Choose DATABASICS"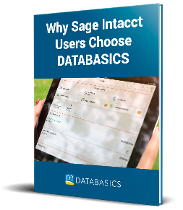 As a third-party Sage Intacct-integrated expense reporting solution, we're proud of our timesheet expertise and our time card experience. If you need to implement a smoother timesheet system, let us know if you have questions.
We're a proven, vetted timesheet add-on to Sage Intacct. The DATABASICS extension combines Time & Expense with Sage Intacct into an all-in-one employee reporting hub that Sage Intacct VP of Business Development Scott Lumish says is "a fantastic addition to the Intacct Marketplace."
By DATABASICS's creative marketing master Amanda Canupp Mendoza. DATABASICS is a timesheet and expense reporting solution with
Sage Intacct integration, www.data-basics.com. Read more about DATABASICS and Sage Intacct on our blog at https://blog.data-basics.com or https://www.data-basics.com/integrations/accounting-erp/sage-intacct/
Read more about DATABASICS here on the ERP Cloud Blog: https://erpsoftwareblog.com/cloud/author/data1018/