ProMRO Cloud ERP is Modern MRO Solution Exhibits at the 51st Turbomachinery & Pump Symposia (TPS) 2022
We are exhibiting our MRO solution, ProMRO, at the TPS show in Houston, TX. The show takes place next week between September 13-15, 2022. Our Clients First Business Solutions ProMRO team will be exhibiting in Booth 2924 to help drive awareness of how to use ProMRO cloud ERP to create efficiency and increase profits. ProMRO was designed with the needs of your Maintenance, repair and overhaul (MRO) business and its unique requirements in mind. We hope to see you there!
It's Not Too Late to Register!
TPS will help advance your professional development and benefit your company as a whole. Here are 3 reasons to attend and a sample text to send if you need to convince the boss. To find out more, visit the event page at https://tps.tamu.edu/event-info and there you'll find the Register tab.
1. Technical Sessions: TPS has more than 90 technical sessions for me to choose from. The program is hand-selected by an advisory committee of industry experts, and taught by leaders in their fields. Session types include short courses, case studies, tutorials, lectures and discussion groups. I've already taken a look at the program and plan on attending [list sessions] if I'm approved to register. [Course title] will be particularly helpful [particular problem/issue you've been working on].
2. Exhibition: More than 350 exhibitors will be there, demonstrating full-size equipment and networking with delegates. I think this speaks volumes about how important this event is in the industry. I've taken a look at the exhibiting company list and would like to visit [list specific companies]. I think [company name] will be able to offer some solutions for [particular problem/issue you've been working on].
3. Networking: Between the technical program and exhibit hall, networking opportunities abound at TPS. This event is a great opportunity for me to get out from behind my desk and shake hands with people who can help grow our business. I already have a plan in place to follow up with contacts I meet so I can create lasting partnerships that will continuously help me learn and get better at what I do every day at the office.
The annual TPS conference is a vital industry event that offers a forum for the exchange of ideas between rotating equipment engineers and technicians worldwide. After 50 years in the MRO industry, TPS is known for its impact on turbomachinery, pump, oil & gas, petrochemical, power, aerospace, chemical, and water industries through two pathways: the technical program and exhibition.
Visit our ProMRO MRO Solution Experts at TPS 2022 in Booth 2924!!
Dates: September 13-15, 2022
Location: Houston, TX
Clients First ProMRO in booth #2924
Visit us and learn how ProMRO: Maintenance, Repair & Overhaul Cloud ERP helps streamline information across quoting, job costing, invoicing, distribution, and reporting. We even have a manufacturing module if you have the need in your job shop.  We look forward to meeting you!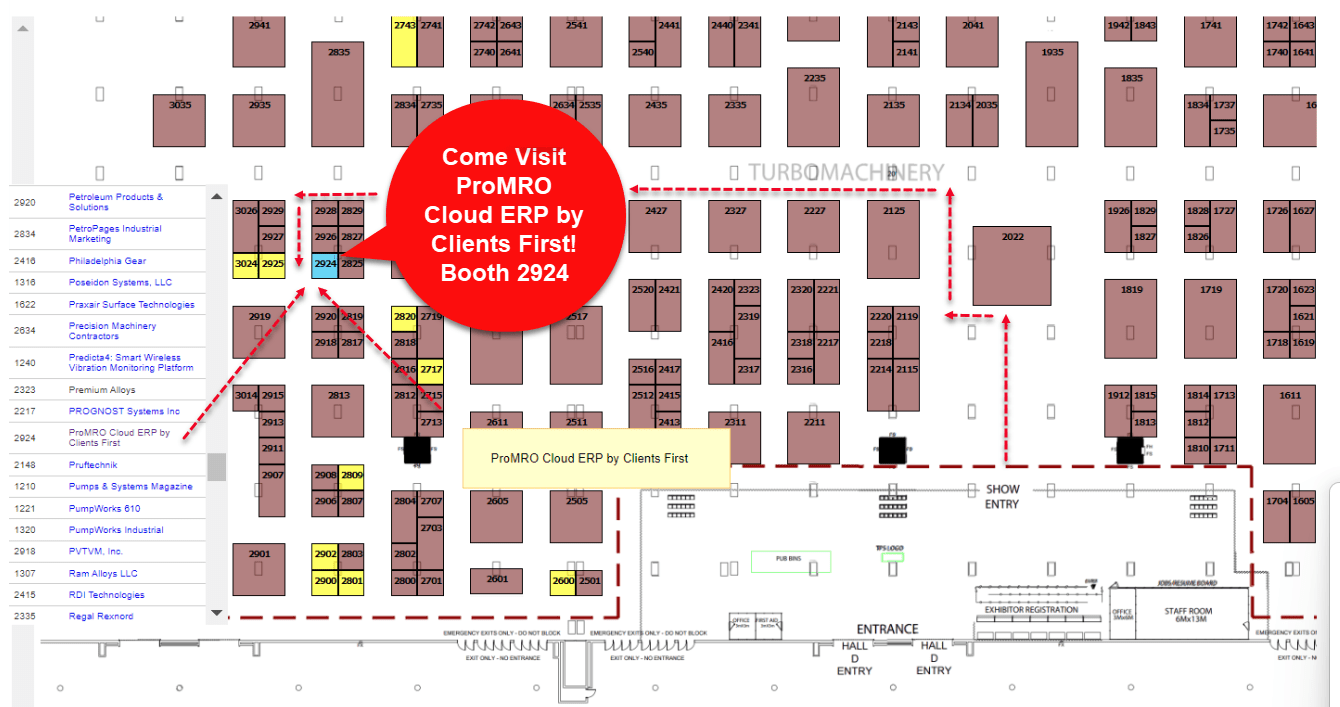 ProMRO Integrated with Acumatica Cloud ERP and Designed for MRO Shops
Visit our booth to learn how easy ProMRO can help you.  It's easy to organize and track critical projects and data so that your business can run efficiently and grow predictably. If you also sell parts, ProMRO incorporates functionality to fulfill your orders and track backorders more easily. Small or large MRO repair shops ProMRO has the features and capabilities that give you the power to organize and track your business so that you can efficiently grow.
Estimates Made Easy
Eliminate the need for a complicated mix of spreadsheets or gathering data from different systems with ProMRO. Creating estimates is no longer a difficult chore that may feel chaotic and inefficient. It also makes billing and invoicing a quick and easy task.
ProMRO simplifies complex processes by providing the ability to create templates for services you offer frequently. Known as Service Profiles, these templates help you create consistency across common quotes, ensuring that all quotes are more uniform and consistent.
Quotes and Work Order Creation is Standardized
Service Profiles can include all critical information such as time estimates, types of labor required, materials estimates, as well as internal and external expenses. Services can be priced at standard or custom rates as needed even when using a template. In the end, you'll more accurately track the costs of services so you can maintain profitably during estimating.
ProMRO transforms your estimates into Service Projects (work orders, jobs) so your shop floor can get to work right away without duplicate data entry. The Service Profile includes the tasks to be done within each project to help capture and track all activity. Your teams can enter time directly into ProMRO by task or by project via the web or optional kiosk. ProMRO automatically applies time entries to the projects so management can intervene when time is exceeding the estimate. For the times when out-of-scope work is required, ProMRO makes it easy to handle using adders that preserve the original estimate.
Support for Inventory and Manufacturing
Running out of stock on items required to complete repairs is both frustrating and preventable. ProMRO gives you full traceability for serialized and inventory. You can see multiple warehouses, different types of warehouses, as well as customer or vendor locations. Your non-stock inventory and kits are also supported by ProMRO. The WMS module helps save time since you can scan inventory in or out of your warehouses.
If your MRO shop manufactures items, you can use the Production Module to create bills of materials: track routers, subassemblies, tools, and any notes from manufacturing right in your connected ERP.
The revenue and costs are automatically associated with your make-to-order projects to make profitability easy to see. Integration with the sales orders in the system gives your team full tracking and visibility between the sales order and the production order.
Learn more about ProMRO MRO software here:
Check out our ProMRO videos and webinar recordings like this ProMRO webinar HERE
Download STS Aviation Success Story
Contact us for ProMRO demonstration
Clients First are Industry and ERP Experts
Our Clients First team developed ProMRO integrated within Acumatica and now Dynamics 365 Finance and Operations for our MRO clients that needed more functionality.  In addition, Acumatica is easy-to-use, offers deep functionality, and there's no per-user license cost for companies with over 10 users. Acumatica has been ranked the leader in ease-of-use over all other ERP solutions for the past three years and is the fastest-growing cloud ERP solution available. Acumatica has NO PER USER license cost offering smaller businesses access to the best ERP and repair functionality available.
Our Acumatica experts look forward to meeting you in Booth 2924. Visit us and learn how we can help guide you on your journey to optimal MRO efficiency to ensure your company's growth. If you're not going to the show, we're happy to schedule a live presentation. Please reach out to us to schedule a demonstration for your business,. Call us at 800.331.8382 or send us an email at info@cfbs-us.com today.
We're a Microsoft Gold ERP Partner, a Certified Cloud Service Provider (CSP) and an Acumatica Gold Partner.