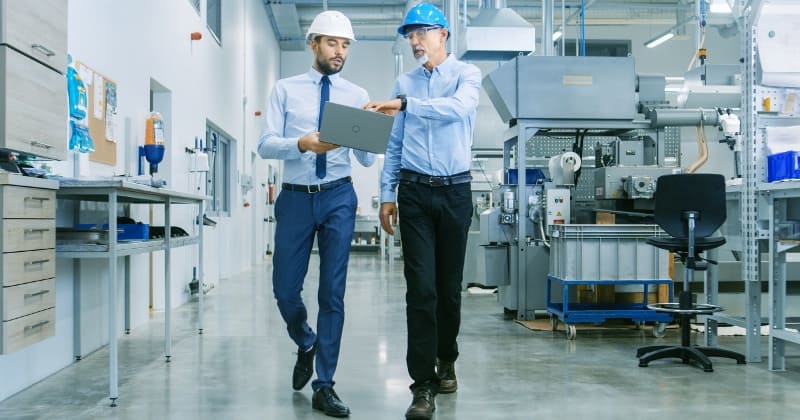 The COVID-19 situation has had a major toll on the entire world. With most of the world slowly recovering from the crisis, it is highly likely that your procurement plans are not as active as required. However, it is only logical to prioritize it because supply chain disruption is imminent during this pandemic, and PLM-ERP integration can help enhance your supply chain efficiency.
Manufacturers must be prepared to quickly respond to different needs at this time, while safeguarding their employees' health. Some of the measures that can help them sail smoothly through this phase are:
Maintaining transparency as much as possible
Managing inventory to maintain supply and demand
Assessing end-consumer demands and catering to them appropriately
Optimizing production and distribution while ensuring employees are always equipped with the right safety materials
Managing logistics flexibly to ensure all needs are met
Therefore, focusing on improving supply chain efficiency can help manufacturers fulfill the fluctuating consumer needs during these demanding times and even in the future.
All the above-mentioned measures can be optimized with automated and collaborated systems such as integrated product lifecycle management (PLM) and enterprise resource planning (ERP) software. For most companies, this is the first step towards supply chain optimization. The PLM system takes care of the product development processes through the early stages (ideating, planning, designing, and manufacturing). On the other hand, ERP manages the supply chain processes in the later stages (such as warehousing, shipping, logistics, pricing, and payments).
Many customers that approached To-Increase were either using business systems with obsolete technology or manual interaction, thus losing out on making the most of the latest trends. Therefore, we helped them synchronize their product designing and manufacturing processes to improve supply chain efficiency and speed up their go-to-market time.
Companies need their ERP and PLM systems to be entirely aligned for smooth and continuous data flow between the two. This will allow them to get real-time and up-to-date product information.
So, how does PLM ERP Integration enable supply chain agility?
First off, integrating the PLM and ERP systems allows you to access a unified source of product information across all channels. Consequently, lesser human intervention increases data integrity, reduces efforts, saves time on rework, and, thus, improves overall supply chain efficiency. Achieving the same level of performance is not possible with disconnected systems.
Here are five ways in which PLM-ERP system integration boosts your supply chain agility:
1. Data Integrity
When you are integrating your PLM system with the ERP system, you begin to get all the product data, changes, or updates into one single platform. Any revisions or new versions of the products are documented concurrently.
This means you are limiting any scope for multiple entries and collecting a single version of the information. Thus, you see your efficiency levels going up, wherein all the departments can find the right data in one place without having to track down needed information separately.
By integrating these two systems, not only does the data accuracy increase, but tracking any changes made in the product design also becomes more manageable. Ultimately, your supply chain efficiency improves, and so does productivity.
2. Successful collaboration with real-time updates
With all the information sourced from a single point, data can be shared in real-time across departments. There is no need to worry about the integrity of data or transferring data between your PLM and ERP.
Your design, manufacturing, finance, operations, and sales teams can check the details of a given product throughout its development stages. This strong collaboration between all the departments results in improved communication and planning in all departments, happy employees, and thriving work relationships.
For instance, let us suppose that faulty headlights of a car were reported into the system. As the data is unified, the production and all the relevant teams receive the same update and start the rectification process in a productive and cost-efficient manner. Therefore, when you have connected PLM and ERP systems, you ensure accurate, real-time updates and save a lot of time and cost.
3. Complete visibility into the product life cycle
To a large extent, the transparency of a product's lifecycle determines whether it will successfully launch in the market or never make it there. A lot of data is continuously transferred to and fro in an integrated solution. However, such data would not be helpful if the manufacturing department is not granted complete access to it.
The integrated PLM and ERP system allows the manufacturing team to identify any problem areas in the supply chain and fix them without any costly delays.
Transparency of a product life cycle ensures complete visibility into all the development stages of a product from beginning to end. Thus, you can immediately fix the problem areas impacting the process efficiency and boost your supply chain's agility.
For instance, let us say your system was notified that a heavy food processor wasn't moving as smoothly as it should. With complete visibility into the integrated engineering and production systems, you can trace back to the root of the problem and get it sorted quickly. This not only saves your time but a lot of cost in scrapping or rework.
4. Effective planning
One of the significant benefits of integrating your PLM and ERP systems is the visibility aspect. It lets you view everything that your product has been through or connected with. Now, that gives you enough data to detect any potential risks and rule them out effectively, while planning all your upcoming projects.
When the business software systems are disconnected or have information gaps, your supply chain becomes susceptible. This can lead to damages that could be painfully costly.
For example, you can compare the current product design being developed in the PLM system with its older versions in the ERP system. The manufacturers can use this insight to avoid any future errors in the supply chain, thus increasing efficiency.
An integrated platform allows you to look at the bigger picture when dealing with more complex product lifecycles, as seen in most of the discrete manufacturing processes.
5. Higher efficiency
PLM and ERP are like daily business tools that play individual key roles in effectively developing a product. But when you integrate these two separate systems into one platform, you end up optimizing your efforts and, thus, enhancing your overall system's agility.
Besides, you will no longer need any extra tools or software systems, which means you also save cost and time. The integration streamlines all the supply chain processes from ideation, engineering, documentation to procurement, production, inventory, logistics, distribution, and delivery.
A completely integrated solution can help have an efficient product design plan, run closely connected workflows, and, ultimately, an efficient supply chain.
Why should you integrate your PLM and ERP systems?
The PLM and ERP integration streamlines your entire supply chain to keep it running smoothly. Whether it's the chaotic situation that the economy has been in right now or its random fluctuations, the integration will help you keep going. Integrating the two systems automates your workflow and can help you stay ahead of the competition.
Some of the things to keep in mind with this integration:
        Have a smart plan in place
        Give the integration a reasonable time to start showing results
        Choose the right integration solution
The level of automation that PLM-ERP integration can offer your business helps predict your customer and industry needs. As a result, your business can respond quickly to the demands and maintain an agile supply chain.
Apart from integrating your PLM with ERP, you can also opt for out-of-the-box integration solutions such as To-Increase's Siemens Teamcenter PLM Integration with Microsoft D365.
Learn how To-Increase can help you seamlessly integrate your PLM and ERP systems. Download our whitepaper.