It's obvious that production scheduling needs attention to detail. As a planner, you have to juggle with lots of information. This includes machine availability, the skills of your resources, prioritization of production orders, deadlines of sales orders for which you produce your items, material needs, working hours, set up times, preferred item sequencing on machines, and many more pieces.
Therefore, we believe this is the moment when an ERP like Microsoft Dynamics 365 Business Central comes to the rescue.
As revealed by our customers, despite its reliability, there was a missing puzzle piece: Business Central has no visuals aids for production scheduling. This is especially important when you need to schedule with finite capacities. Above all, this is why we stepped in: To hear, learn and develop the final puzzle piece. And in this blog, we explain why you'll want to have it too. Spoiler: this final puzzle piece is called "VAPS".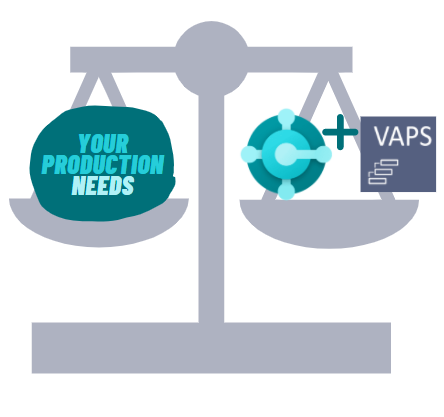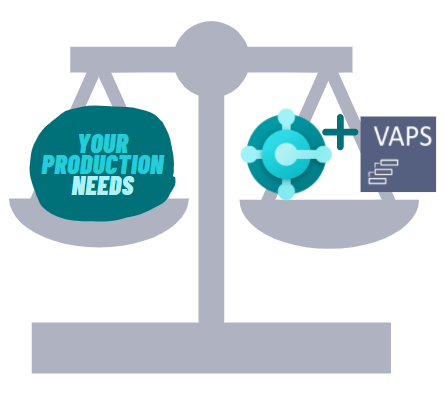 Why Business Central's manufacturing module is right for you?
An ERP like Business Central is beyond comparison. Undoubtedly Business Central works seamlessly to manage master data as well as transactions and connect operations across your business. Besides, when it comes to manufacturing management and master planning, Business Central has lots of manufacturing features straight out of the box.
In simple words, the manufacturing module is rather comprehensive. Let's go through a quick recap on its features and examples of what you can do by using the manufacturing module:
Allows you to configure items, item-specific configurations, and multiple replenishment strategies.
You can design and define the Bill of Materials per item, for multi-level production with its subassembly requirements
There are predefined workflows related to the production order status.
Create reservations, set family orders, etc.
Run your manufacturing on work center level only, or on work and machine center level. You can set up different shop calendars for different work centers, and you can manage your subcontractors as independent work centers.
You have the planning worksheet to run MRP and MPS so that you can always balance and manage item supply and item demand.
Choose whether you want to manually create production orders if you want to get them from your sales orders, or via MRP/MPS.
Use the production journal to pairs the data from your production plan with your actual execution process.
With this in mind, we go to our next question.
What was "wrong" with BC?
We can phrase it like this: Dynamics 365 Business Central is a data treasure. Except for time-related production scheduling data, because it provides no fast path for you to get to the gold. That means: it is hard to achieve proper production scheduling with the out-of-the-box tools coming with Business Central.
We believe Business Central had room for improvement in particular that one area. I'd agree this comment can sound controversial coming from a Microsoft ISV. Although that's exactly why we are here.
Technically, you can find all data you need for production scheduling within Business Central. That means: master data is is not the issue. The issue is that this data is distributed across many multiple tables. This makes it extremely hard to get a rapid, and yet complete overview of your production schedule.
Who hasn't heard the phrase "A picture is worth a thousand words"? Well, that's basically our motto.
How we fixed it, and how you can too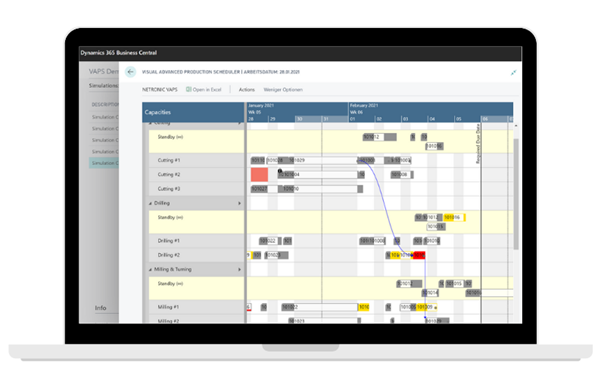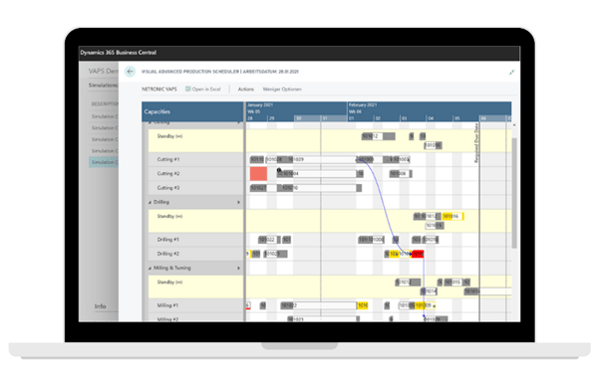 At NETRONIC, we worked to supercharge Business Central. We developed an extension to make information uncomplicated, easing the make and the management of a production schedule. This entry-level drag & drop scheduler is the Visual Production Scheduler (VPS).
Along the way, we also came to the conclusion that some Business Central manufacturing clients require more than drag & drop scheduling. In fact, they need more than Business Central's master data allows. Especially, when their business demands proper finite capacity scheduling. For this, we came up with a second extension, the Visual Advanced Production Scheduler (VAPS).
With these two options, we became pioneers to integrate a finite capacity visual production scheduler to the manufacturing module of Microsoft Dynamics 365 Business Central.
How does a visual production schedule work?
First, a visual production schedule compiles all information you need for scheduling into one view. This includes:
Production orders
Routing steps with setup times, runtimes, wait times, and transport times
Work centers, machine centers plus their respective work times
Capacities
Dependencies between production orders and routing steps
Delivery dates, and more
Second, this visual production schedule encourages you to make changes. You can adjust the timings of a production order or an operation. Likewise, you can assign an operation from one machine to another. And in both cases, you'll be able to see how this impacts the utilization of the new machine.
Third, these schedule changes that you make with the visual production scheduler can be written back into Dynamics 365 Business Central. That way you can keep your schedule current update, and manage it in a visual and this easy-to-understand way.
Last but not least, a visual production schedule provides you with multiple perspectives on your schedule. You can review your schedule based on the production orders or in the work and machines centers that will handle them.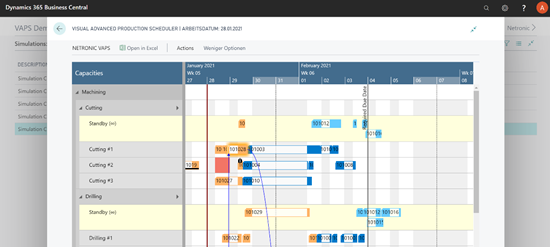 How can visual production scheduling help you?
See your schedule in multiple views, and understand it quickly.
Short-term management of your schedule. Plus: mid-term and clear-cut view of your expected capacity utilization.
Enables you to make manual, like drag & drop, to semi-automatic bulk scheduling.
Visualize your alternative machine centers and routings.
Insert operations in a released schedule, followed by the automatic adjustment of the schedule.
Alternatively, to enter a new production order while keeping the original sequence.
Possibility to pin operations to lock time slot.
Useful color viewing options to highlight your preferred scheduling aspect.
Capability to run copies of your schedule, build scenarios, compare, and publish your preferred schedule.
Considering the availability of the material you require.
Highlights the dependencies and conflicts. For example delivery time violations, capacity conflicts, missing material, among others.
What are the benefits of a visual production schedule?
You make faster and better decisions. You can see the schedule in one glance. Identify operation dependencies. And make faster and informed decisions.
Happier clients as your delivery time commitments become accurate. With a visual production schedule, you can understand workload and timelines. This will help you to make reliable time commitments and deliver as promised.
Use your resources in a better way. Quickly identify the resource load. Recognize their capacities and bottlenecks. Maximize the throughput by reducing idle times on your bottleneck resources.
Would you benefit from a visual production scheduler?
A visual production scheduler can really help you if you schedule multiple new production orders every day. On the other hand, if you are new to Business Central, but you have used other production scheduling software solutions in the past, namely Planner One or a homegrown ERP, a visual scheduler will work too. Actually, contact us for a special offer!
Are you ready to connect the last piece to your Business Central puzzle?
Does this sound like the extension you were looking for? More importantly, would you like to know how your production schedule would look like in the VPS or VAPS? You can register for our finite capacity assessment workshop (priced at $2,500 USD). Nonetheless, if this is too big of a step, we can initially offer you some free baby steps: